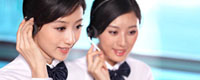 Name: Mr.David(G.Manager)
Tel: +86-571-87390575
Fax: +86-571-87390523
E-mail: info@demomedical.com
Add: Zhongce Garden,No.8 St, Hangzhou Eco And Tec Dev Zone, Zhejiang,China
Skype: info@demomedical.com



Product name : Cohesive Elastic Bandage(self-adhesive)

Product No. : CEB3590120
Details:
Cohesive Elastic Bandage(self-adhesive) Description:
Coat a thin layer of complex glue on the cotton fabric which
allows the bandages adhere to themselves tightly.Soft ,comfortable and Hand-tear.
Only adhere to itself ,not stick to hairs or skin.
BA01040 cotton 75g/m2 5cmX4.5m
BA01041 cotton 75g/m2 7.5cmX4.5m
BA01042 cotton 75g/m2 10cmX4.5m
BA01043 cotton 75g/m2 15cmX4.5m
BA01044 non-woven 80g/m2 5cmX4.5m
BA01045 non-woven 80g/m2 7.5cmX4.5m
BA01046 non-woven 80g/m2 10cmX4.5m
BA01047 non-woven 80g/m2 15cmX4.5m
Color: many kinds
Packing:1roll/bag, 12rls/plastic bag

More information, please kindly contact us.