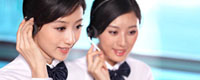 Name: Mr.David(G.Manager)
Tel: +86-571-87390575
Fax: +86-571-87390523
E-mail: info@demomedical.com
Add: Zhongce Garden,No.8 St, Hangzhou Eco And Tec Dev Zone, Zhejiang,China
Skype: info@demomedical.com



Product name : Latex Foley Catheter 1-w

Product No. : LFC9180210
Details:
Latex Foley Catheter 1-way, with silicone coated
Features:
1. Color-coded sleeves are useful for easy and rapid size identification.
2. Made from natural latex. Silicone coated.
3. Smooth tapered tip of catheter facilitates easy introducing to the urethra.
4. The drainage eyes are accurately formed to permit affective drainage.
5. The symmetrical balloon expands equally in all directions so as to perform its function of retaining bladder efficiently.
6. The smooth outer surface is specially treated with medical grade silicone fluid which facilitates easy passage through urethra. Color-coded sleeves are useful for easy and rapid size identification
Size:
LFC9180210 1-Way foley catheter without balloon, Standard size
Fr6,Fr8,Fr10,Fr12,Fr14,Fr16,Fr18,Fr20,Fr22,Fr24